You may be scratching your head over my post title, but you all have to remember the horror of the business up front, party in the back hairstyle epitomized by Billy Ray Cyrus.
The mullet isn't just for men stuck in a time warp anymore. Look how fun this dining chair is with the whimsical fabric on the back. The pretty fabric is a nice surprise from the backside and it stays clean while the utilitarian fabric is the workhorse.
This project started with a $15 craigslisted wingback chair.
It sat like this for close to 2 years. I'd bring home swatches, but nothing felt quite right. Actually I did love one fabric, but it was $$$, so the search continued. Last month, I was helping a friend clear out her attic, and ended up coming home with a boat load of random fabric. One of which was this.
It was love at first sight. Unfortunately there wasn't enough yardage to cover the chair. Enter the mullet. I could have used the fabric for the seat of the chair, but I'd rather have it be a fun surprise. Plus I have the chair away from the wall in the middle of the room by a walkway and it's nice to see it from the other side. I needed a complementary fabric and this heavy upholstery velvet in a business grey was perfect. I snagged it off the red tag flat fold section at JoAnn's for less than $4.
I started to deconstruct the chair, but then thought I'd just make a slipcover instead of reupholstering. I do have 2 boys, and being able to toss it in the wash will help it's longevity.
If this was a real professional tutorial, there'd be lots of measuring, pattern making, and muslins. I'm more of a jump in, fly by the seat of my pants type. I lay my fabric out on the chair, pinning directly to the chair, cut my pieces, and basted them together, before taking them to my sewing machine.
For a slipcover to fit properly on a piece of furniture with curves, it's usually necessary to create a zipper or some other type of closure. The party girl in back let loose with a corset. Additionally there are some ribbon ties underneath.
Here she is all dressed up mullet style. Business up front, party in the back. I still might paint her legs or stain them darker. With the brass buttons, I'm toying with the idea of a shiny metallic gold paint on her legs. What do you think? A little too much party?
Thanks for popping in and sewing with me.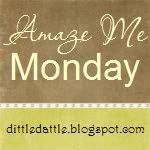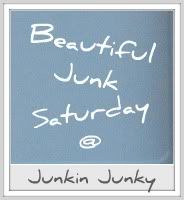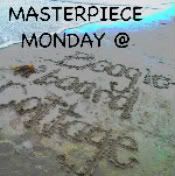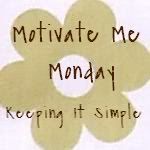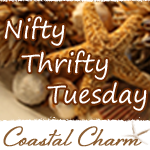 *Edited to add* I took Cassie's suggestion to paint the bottom few inches of the legs. You can see them
here
.