This past weekend we went up to the cottage for probably the last time before it gets closed up for the winter. We were celebrating my nephew's birthday so 4 generations of Computer Genius's family converged on the cottage.
The boats and jet ski are all out of the water for the year, so my sister-in-law went all out with decorations and activities. The whole cottage was done up with spooky decor.
The cake was positively ghoulish. Can you believe this wasn't store bought? That's right SIL made it.
And the kids enjoyed a treasure hunt and haunted hayride. Look at that giant bucket of spooky treasure.
That's my super creative SIL on the right.
The kids even got to use the apple peeler, corer gadget to make applesauce.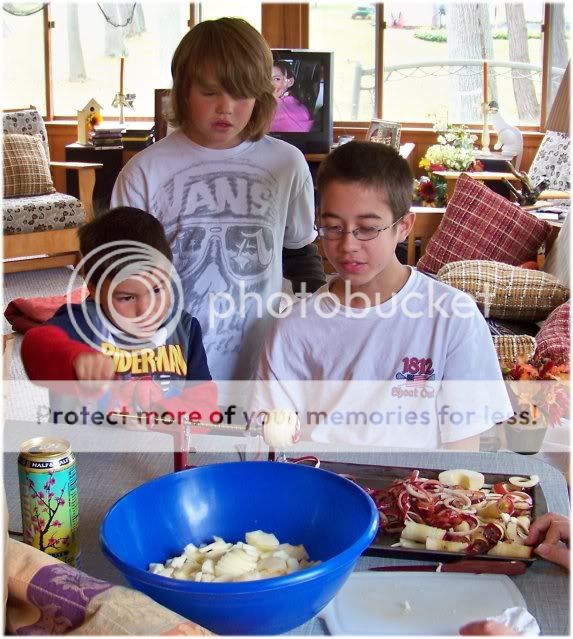 But what was most fun probably wasn't the planned activities. It was the just hanging out together. This nephew is the cousin closest in age to Whirling Dervish and the two just have a blast when we can get together.
There was a lot of wrestling, biking, ball playing and just hanging out down by the water.
That last pic is a bit distorted because it was taken over the firepit. I kindof like the effect though. It almost looks like a watercolor. I'm thinking this pic might be great printed on canvas.
And here's the firepit that everyone sat around this weekend.(October in upstate NY is Cold.)
So that was our weekend. Having lost a baking weekend, I have to play catchup and will be posting many recipes this week as I get ready for this upcoming weekend's parties.
Today I made pecan pie tartlets. They'll be served at the adult party and can sit in the freezer until Saturday. Start by melting 2/3 cup butter in a microwave safe mixing bowl. Beat in 2 eggs.
Add in 1 cup dark brown sugar. If you don't have it, you can make your own easily. Brown Sugar is just granulated plus molasses. 1-2tbsps molasses per cup of granulated. Since I only keep light brown sugar in the house I added 1 tbsp of molasses to the batter.
Add 1/2cup amaranth flour. Amaranth has a nutty flavor that I think gives these tartlets a little something extra, but feel free to substitute rice flour, or regular flour if you're not gluten-free. Add 1 cup chopped pecans. I used my mini chopper, but a small child with a hammer and a ziplock baggie work just as well.
Spoon the batter into a mini muffin pan and place a pecan half on top of each.
Bake at 350 for about 25 minutes. Turn them out after they've cooled a bit. Aren't they cute?
These are the perfect bitesize portion for a tailgate or cocktail party.