Gerry at
Foodness Gracious
is holding a cocktail party, and I absolutely had to join in.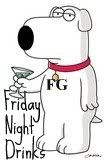 How cute is his party button? Yes I know it's the Family Guy dog, that's why I think it's funny.
2 of my absolute favorite indulgences are dessert and vodka, so is it any wonder that I'm sharing a dessert flavored martini? I've shared my Pineapple Upside Down Cake recipe
here
, now get ready for all that goodness in a glass.
Shake 1 oz Pinnacle Cake Vodka with 2 oz pineapple juice and some ice in a cocktail shaker. Strain into a martini glass and garnish with a maraschino cherry. So easy. I'm actually pouring a double here, because the glass is so ginormous.
Everybody's been buzzing about Pinnacle Whipped Vodka, which is super yummy, but Cake is their lesser known but still just as awesome flavor.
Every good cocktail party should have a bit of mingling, and getting to know you. So here are some things you didn't know about me. I recently started P90X(all that vodka and desserts were starting to take a toll.) I, at the advanced age of way too old, can still do a split. In all the years I've lived with my husband, I've only cleaned a toilet once - that's his domain.
Thanks for popping in and drinking with me. Now go visit Gerry's blog. He has the most amazing food photography and terrific recipes. And don't forget to come back Thursday for my monthly Before Blogging Party.